CAST
About The "London Fields" Cast
Amber Heard and Billy Bob Thornton
---
Amber Heard (Nicola Six in London FIelds)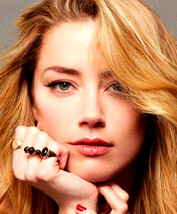 Amber Heard has appeared in numerous films opposite some of Hollywood's biggest stars. Her more recent roles include playing Mera in James Wan's Aquaman, a character that first appeared in Zack Snyder's Justice League which grossed over $655 million worldwide, playing Zelda in Alex Ross Perry's Her Smell, and playing Joyce in Nabil Elderkin's Gully.
Heard starred in Tom Hooper's The Danish Girl. The film premiered to rave reviews at the Venice and Toronto International Film Festivals and was released by Focus Features in January 2016. In 2015, she had two films premiere at the Tribeca Film Festival, The Adderall Diaries opposite James Franco and When I Live My Life Over Again opposite Christopher Walken.
Heard also starred in Magic Mike XXL opposite Channing Tatum, Three Days to Kill opposite Kevin Costner, Robert Rodriguez's Machete Kills, and Robert Luketic's Paranoia opposite Harrison Ford and Gary Oldman.
Her other film credits include The Ward, And Soon The Darkness, All the Boys Love Mandy Lane, Zombieland, The Stepfather, Pineapple Express, Rum Diary, North Country, Drive Angry, The Joneses, Never Back Down, Alpha Dog, and Friday Night Lights.
Originally from Texas and currently residing in Los Angeles, Heard is an outspoken advocate for women's and children's rights. She devotes her time off-screen to organizations like the American Civil Liberties Union (ACLU), Amnesty International, and the Art of Elysium, and most recently returned from a humanitarian trip to Jordan to visit Syrian refugees with the Syrian American Medical Society (SAMS). Heard is a Human Rights Champion of the UN Human Rights Office, lending her voice and support to promote the principles of the Universal Declaration of Human Rights, which was adopted 70 years ago.
Heard was recently named as L'Oréal's newest global celebrity spokesperson.
---
Billy Bob Thornton (Samson Young in London FIelds)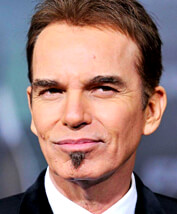 An Academy Award-winning writer, actor, director, and musician, Billy Bob Thornton has an extensive career in motion pictures, television, and theater.
Currently celebrating a high water mark in his career, Thornton's recent projects include A Million Little Pieces, the screen adaptation of James Frey's best-selling book and the Amazon series Goliath, for which his performance garnered him a Golden Globe Award for Best Actor in a Television Drama.
Thornton's past projects include the critically acclaimed FX Network limited television series Fargo, for which he received Golden Globe and Broadcast Television Critics Awards for Best Actor in a Mini-series or Movie, and Emmy and SAG Award nominations in the same category and the films Our Brand Is Crisis and The Judge. Thornton also starred in the ensemble drama Jayne Mansfield's Car, an original script co-written by Thornton and longtime collaborator Tom Epperson for which he once again stepped behind the camera to direct.
He also played a role in the ensemble drama Parkland with Paul Giamatti and Marcia Gay Harden, the action thriller Faster with Dwayne Johnson, the film adaptation of Bret Easton Ellis' best-selling novel The Informers, the Polish Brothers' dark comedy Manure, Paramount Pictures' Eagle Eye, the New Line Cinema comedy Mr. Woodcock, Warner Bros. Pictures' The Astronaut Farmer, School For Scoundrels, the re-make of the The Bad News Bears for Paramount Pictures, and Friday Night Lights for Universal Pictures. Thornton also directed The King of Luck, a documentary about country music legend and longtime friend Willie Nelson.
In 2003, he garnered a Golden Globe nomination for Best Actor in a Musical or Comedy for his role in the critically acclaimed box-office hit Bad Santa, and in 2004, he received rave reviews for his portrayal of legendary frontiersman Davy Crockett in Touchstone Pictures' The Alamo.
Showing the versatility of his acting abilities, in 2001, Thornton starred in the caper comedy Bandits co-starring Bruce Willis and Cate Blanchett, the noir The Man Who Wasn't There, and the heart wrenching drama Monster's Ball co-starring Halle Berry, Peter Boyle, and Heath Ledger. Each of the three performances garnered Thornton unprecedented critical acclaim and resulted in him being named Best Actor of 2001 by the National Board of Review, Golden Globe nominations for Best Actor in a Drama for The Man Who Wasn't There, and Best Actor in a Musical or Comedy for Bandits, and an American Film Institute Award nomination for Best Actor for The Man Who Wasn't There.
Thornton's 1996 release of the critically acclaimed feature film Sling Blade, which he starred in and directed from an original script he wrote, firmly secured his status as a preeminent filmmaker. For his efforts, he was honored with both an Academy Award for Best Adapted Screenplay and an Academy Award nomination for Best Actor.
Prior to Sling Blade, Thornton already had an extensive motion picture credit list. He wrote and starred in the thrilling character drama One False Move, which brought him immediate critical praise. Thornton's powerful script (co-written with Tom Epperson) was enhanced by his intense performance as a hunted criminal. The film, directed by Carl Franklin, was an unheralded sleeper success.
In addition, Thornton has been featured in such films as The Winner, Paramount Pictures' Indecent Proposal directed by Adrian Lyne, Deadman, and in Tombstone directed by George Cosmatos for Buena Vista Pictures.
Thornton has also appeared in the films On Deadly Ground, Bound By Honor, For The Boys, and The Stars Fell on Henrietta.
As a writer, Thornton has worked on numerous projects for United Artists, Miramax, Universal Studios, Warner Bros., Touchstone Pictures, Island Pictures, David Geffen Productions and HBO. He also scripted A Family Thing, a highly regarded feature film that starred Robert Duvall and James Earl Jones for United Artists.
Thornton co-starred in the blockbuster action-adventure film Armageddon with Bruce Willis and he co-starred opposite Sean Penn and Nick Nolte in U-Turn directed by Oliver Stone, and in Primary Colors opposite John Travolta and Emma Thompson. He also starred in the dark comedy Pushing Tin opposite John Cusack.
Thornton received an Academy Award nomination and Golden Globe nomination for Best Supporting Actor for his celebrated work in the tightly woven drama A Simple Plan, as well as a Best Supporting Actor award from the Los Angeles Film Critics Association and a Best Supporting Actor nomination from the Screen Actors Guild.
For his second and third directorial outings, Thornton chose the comedy Daddy And Them, which he again wrote and starred in, and the best-selling Cormac McCarthy novel, the epic All The Pretty Horses starring Matt Damon, Penelope Cruz, and Henry Thomas.
Thornton also co-wrote The Gift starring Cate Blanchett, Giovanni Ribisi, and Hilary Swank. Thornton's other film credits include the comedy Waking Up In Reno co-starring Charlize Theron, Patrick Swayze, and Natasha Richardson, the drama Levity in which he co-starred with Morgan Freeman, Holly Hunter, and Kirsten Dunst, Intolerable Cruelty co-starring George Clooney and Catherine Zeta Jones, and Love Actually with Hugh Grant, Laura Linney, and Liam Neeson.
---
Read London Fields: From Page to Screen

Read London Fields: Set and Costume Design

Read London Fields: The Cast (Amber Heard and Billy Bob Thornton)

Read London Fields: The Cast (Jim Sturgess and Theo James)

---
SUBSCRIBE
Sign up to receive news and updates.
---